DETAIL
☆ with 90-minute all-you-can-drink ☆ [all 7 dishes ★ Health Beauty birthday course] 4000 → 3500 yen ※ birthday plate with ♪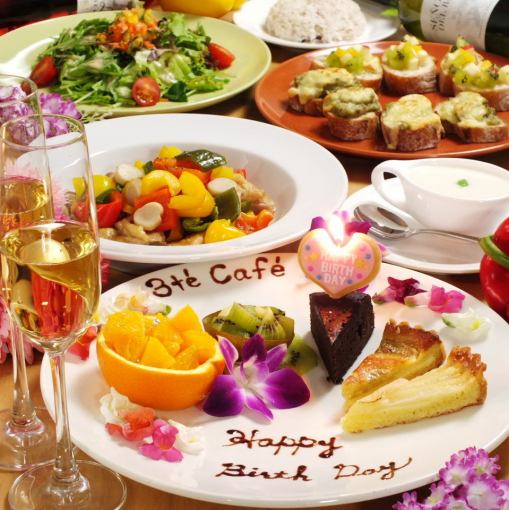 Reservation deadline

Visit of hope on the day until 14 o'clock
Drink and unlimited of 90 minutes, will be the special course that has the anniversary plate.
Course menu
■ sparkling enzyme drink
■ Recommended appetizers three
3 types we have you out the appetizer using the vegetables that arrived on that day
Example
Urban farm Asaoka's marinade made with Midi tomato
Tokushima Prefecture Nishioka's home carrot Rapenamuru taste
Shin onion blueberry sauce
Pumpkin of Nanban pickled
- Bamboo shoot hemp Auntie and served the appetizer three and so on.
■ of fresh vegetable salad one article
Example
·Caesar salad
Shin burdock crunchy salad
· Macrophyll tofu salad to eat in the dressing
- Hinata in accordance with the season, such as such as a bucket salad of summer and walnut we have served the salad one article.
■ season commitment soup
Example
- Carrot soup
Tomato plenty of minestrone
Shin onion whole soup
We have put out soup one article you made with seasonal vegetables such as such as, turnip potage.
■ seasonal vegetables
Example • Bagna cauda
- We have put out one article you seasonal vegetables such as new onion steak like.
■ bruschetta
Example
Of tomato and avocado bruschetta
Smoked Salmon no bruschetta
Of-mushroom saute parsley garlic source of bruschetta
We have put out one article you bruschetta etc. of seasonal vegetables bruschetta.
■ main dish
Example
· Ratatouille chicken saute
Homemade roast beef
- Pork Sotetsuna and tomato sauce
Etc. Chicken herb baked we have put out one article your main.
■ Surprise anniversary plate
※ The birthday surprise, director of music there ♪ Please feel free to contact us!
2018/05/02 update