Course details
☆ 90 minutes with unlimited drinks ☆ 【7 total items ★ Health Beauty birthday course】 4000 → 3500 yen __ with birthday plate ♪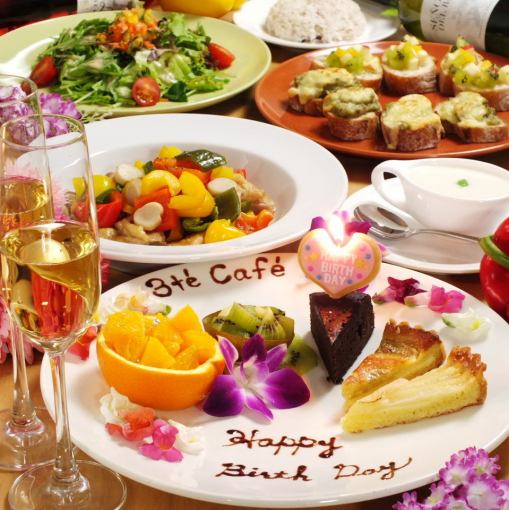 By using a coupon3500 yen
Reservation deadline

Until 14 o'clock on the day of visit to the store
Available days for reservation

Monday - Sunday - Public holidays - Holidays
All you can drink for 90 minutes and a special course with an anniversary plate.
Course menu
■ Sparkling enzyme drink
■ Recommended appetizers 3 kinds
Three kinds of appetizers using vegetables arrived on that day are on offer
An example
· Marinade made from Udon Farm Asadaoka's Midi Tomato
· Tokushima prefecture Nishioka family ginseng Rapenamul taste
· New Onion Blueberry Sauce
· Pickled pumpkin in Nambucana
· We will offer three kinds of appetizers such as bamboo shoots Maiko.
■ 1 salad of fresh vegetables
An example
·Caesar salad
· New burdock's crispy salad
· Tofu salad to eat with a large leaf dressing
· We have served a salad according to the season, such as Hinata summer and walnut bucket salad etc.
■ Seasonal commitment soup
An example
· Carrot soup
Minestrone with plenty of tomatoes
· Whole new onion soup
· We have served 1 soup made from seasonal vegetables such as turnip's potage.
Seasonal hot vegetables
Examples - Bagna cauda
· We have delivered seasonal hot vegetables such as new onion steak and so on.
■ Bruschetta
An example
· Bruschetta with tomatoes and avocados
· Smoked salmon nobruschetta
· Mushrooms sauté parsley with garlic sauce Bruschetta
· We have delivered 1 bruschetta such as bruschetta of seasonal vegetables.
Main cuisine
An example
· Ratatouille chicken saute
· Homemade roast beef
· Potato soutzna and tomato sauce
· We have delivered 1 main item such as chicken's incense grill etc.
■ Surprise anniversary plate
※ Birthday surprise, production of music ♪ Please feel free to contact us!
Coupons that can be used with this course
2018/05/02 update