DETAIL
Vegetable sommelier Omakase course [Health Beauty course] 2000 yen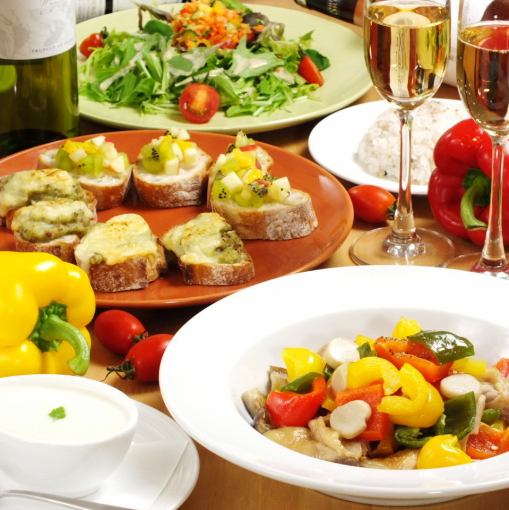 By using a coupon2000 yen
+ Drink coupon available Allowed (wine you can drink Tasu880 yen, 90 minutes drink FD + 1000 yen)
Reservation deadline

Coming to the store until the desired date of the day 17
3te'Cafe 'recommended for people who want to eat recommendations of the Basic Course !! vegetables ★
Course menu
■ Recommended appetizers five
3 types we have you out the appetizer using the vegetables that arrived on that day
Example
Urban farm Asaoka's marinade made with Midi tomato
Tokushima Prefecture Nishioka's home carrot Rapenamuru taste
Shin onion blueberry sauce
Pumpkin of Nanban pickled
- Bamboo shoot hemp Auntie and served the appetizer three and so on.
■ of fresh vegetable salad one article
Example
·Caesar salad
Shin burdock crunchy salad
· Macrophyll tofu salad to eat in the dressing
- Hinata in accordance with the season, such as such as a bucket salad of summer and walnut we have served the salad one article.
■ season commitment soup
Example
- Carrot soup
Tomato plenty of minestrone
Shin onion whole soup
We have put out soup one article you made with seasonal vegetables such as such as, turnip potage.
■ bruschetta
Example
Of tomato and avocado bruschetta
Smoked Salmon no bruschetta
Of-mushroom saute parsley garlic source of bruschetta
We have put out one article you bruschetta etc. of seasonal vegetables bruschetta.
■ main dish
Example
· Ratatouille chicken saute the main dishes one article
Homemade roast beef
- Pork Sotetsuna and tomato sauce
Chicken herb grilled etc.
■ dessert after a meal
Example
Tomato gelato granola served
Cake etc.
Coupon that can be used
【All-you-can-drink cheap wine offer only available for 90 minutes】
1400 yen → 880 yen
All you can drink red wine and white wine

Presentation conditions

When ordering

Conditions of use

Lunch time / dinner time available / 1 person / ~ / card use unavailable / food stuff / other tickets / service can not be used together

Expiration date

Until the end of June, 2018

【Good coupon limited FD 90 minutes】
1500 yen → 1000 yen
All-you-can-drink 90-minute drink in the FD menu

Presentation conditions

Please tell at time of reservation & reservation at time of reservation.

Conditions of use

Reservation required / 1 person / ~ Hot Pepper Meal Tickets can be used in combination / other tickets / services can not be used together / cards can not be used

Expiration date

Until the end of June, 2018
2018/05/02 update