Course details
Vegetable sommelier Random course 【Health Beauty course】 2000 yen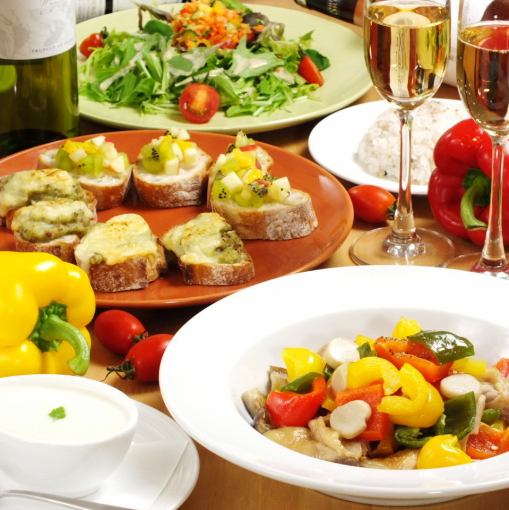 By using a coupon2000 yen
+ Drink coupon available (All you can drink wine +880 yen, 90 minutes drink FD + 1000 yen)
Reservation deadline

Until 17 o'clock on the desired shopping day
Available days for reservation

Tuesday, Sunday, Public Holiday, Holidays
3te'Cafe 'Recommended basic course! Recommended for those who want to eat vegetables ★
Course menu
■ Recommended appetizers 5 species
Three kinds of appetizers using vegetables arrived on that day are on offer
An example
· Marinade made from Udon Farm Asadaoka's Midi Tomato
· Tokushima prefecture Nishioka family ginseng Rapenamul taste
· New Onion Blueberry Sauce
· Pickled pumpkin in Nambucana
· We will offer three kinds of appetizers such as bamboo shoots Maiko.
■ 1 salad of fresh vegetables
An example
·Caesar salad
· New burdock's crispy salad
· Tofu salad to eat with a large leaf dressing
· We have served a salad according to the season, such as Hinata summer and walnut bucket salad etc.
■ Seasonal commitment soup
An example
· Carrot soup
Minestrone with plenty of tomatoes
· Whole new onion soup
· We have served 1 soup made from seasonal vegetables such as turnip's potage.
■ Bruschetta
An example
· Bruschetta with tomatoes and avocados
· Smoked salmon nobruschetta
· Mushrooms sauté parsley with garlic sauce Bruschetta
· We have delivered 1 bruschetta such as bruschetta of seasonal vegetables.
Main cuisine
An example
· Ratatouille chicken saute main dish 1 item
· Homemade roast beef
· Potato soutzna and tomato sauce
· Grilled chicken and grass etc
■ After dinner dessert
An example
· Tomato gelato with granola
· Cake etc.
2018/05/02 update